GAS ANALYZER OXYBABY® 6.0: For O2 or O2/CO2
Cordless handheld oxygen or merged oxygen/carbon dioxide analyzer for checking modified atmospheres in food packaging. The ideal instrument for portable, fast and accurate sample tests at the packaging machine, in stores or laboratories. OXYBABY® 6.0: the advanced model for modified atmosphere packaging (MAP) and a cost-effective, mobile alternative to tabletop / fixed analyzers. It offers all of the benefits of modern technology quickly and easily as options. For example Bluetooth for wireless communication and an integrated barcode reader. Ensure that the quality of your packaged product is maintained (HACCP), guaranteeing continued customer satisfaction. 
OXYBABY® 6.0 is the ideal instrument for sample tests, requiring only a minimal amount of sample gas, allowing even the smallest of MAP packages to be tested. Includes a measurement of the package's internal gas pressure. Together with the exclusive OBCC software (optional), measured results can be documented, providing complete traceability (HACCP). Provide your customer with the results, ensuring that your product has the best possible packaging quality.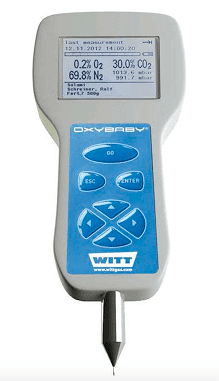 ● Integrated data log of the last 500 measurements
● Product administration up to 25 users, 100 product names & 50 packaging lines
● Indication of package's internal pressure
● Indication of carrier gas proportion
● Cordless operation using rechargeable batteries
● Data transfer and charge of batteries via USB port
● Faster workflow by an optional integrated bar code scanner for product data
● Sample flow control with a warning in case of blocked needle
● Upgraded simple one-hand operation
● Measurement alternatively also by hose
● Easy to clean
● Large illuminated graphic display
● Multilingual menu guide: see overleaf
● Integrated needle cover to protect needle and user
● Long lifetime of O2 sensor (approx. 2 years)
● Low maintenance costs
Complete in carrying case
• Charging device and adapter set
• Data cable
• CD-ROM with:
– OBCC software (demo version)
– Operating instructions
• 2 spare needles
• 2 spare filters
• Set of 100 rubber seals
• Case dimensions (HxWxD): approx. 12.79 x 15.16 x 4.53 inches
case weight: approx. 3.75 lb
• Hose with Luer-Lok connection for stationary measurement
• Barcode-reader – integrated into OXYBABY® 
• Bluetooth for OXYBABY® – integrated into OXYBABY® 
• Bluetooth adapter for PC
• Bluetooth printer
• OBCC software license
• Can/bottle piercer
• Table rack/stand
OXYBABY 6.0 O2 – Part No. 590000311
OXYBABY® 6.0 O2/CO2 – Part No. 590000282
(compared to OXYBABY® M+)
• Minimal sample gas requirement (from 2ml up)
• Complex administration
• Five times larger data log
• Data export and analysis software
• Smart handling with key panel and display 'pro'
• Bluetooth and Barcode-Reader by option
GAS ANALYZER OXYBABY® 6.0: For O2 or O2/CO2
OXYBABY® 6.0 O2
OXYBABY® M+ O2/CO2
 
 
●
●
Gases
O2 balance gas: N2, (Ar or others upon request)
O2 and/or CO2 balance gas: N2, (Ar or others upon request)
●
●
Measuring principle O2
electrochemical cell
 
●
Measuring principle CO2
IR-absorption
●
●
Sensor lifetime O2
approx. 2 years (in the air at 68°F)
 
●
Sensor lifetime CO2
long lifetime
●
●
Measuring range
0-100%

●

●
 
O2 in 0.01%-steps
 
●
 
CO2 in 0.1%-steps
●
●
Sample gas requirement
< 10 ml
●
●
Sample time
max. 10 sec.
●
●
Calibration
simple two-point calibration
●
●
Sampling
automatic via needle using an integrated pump
●
●
Data log
last 100 measurements assignment of measurements to different product names or line numbers
●
●
Multilingual
German, English, French, Italian, Dutch, Swedish, Finnish, Spanish, Polish and Russian
●
●
Temperature (gas/environment
32 – 104°F
●
●
Display
backlit
●
●
Shut down
automatic after 2 minutes of non-use
●
●
Housing
shock-resistant plastic
●
●
Weight
approx. 1.32 lb (without accessories)
●
●
Dimensions (HxWxD)
7.4 x 4.2 x 3.6 inches (without needle)
●
●
Power supply
3 integrated rechargeable batteries, type Ni-MH (charging device included)
●
●
Charging device
110 – 240 V AC
●
●
Approvals
Company certified according to ISO 9001 and ISO 22000 CE-marked according to:
– EMC 2014/30/EU
– Low Voltage Directive 2014/35/EU
for food-grade gases according to:
– Regulation (EC) No 1935/2004
Cleaned for Oxygen Service according to:
– EIGA IGC Doc 13/12/E: Oxygen Pipeline and Piping Systems
GAS ANALYZER OXYBABY® 6.0: Accessories
OXYBABY® Table rack/stand
This stabile and stable table rack/stand from stainless steel is ideal for use OXYBABY® as tabletop version. Connector tube with Luer-Lok-connection is available for connection with OXYBABY®. The table rack/stand is suitable for all OXYBABY® models and has two deposits for needles. It is also usable as support.
Integrated barcode - reader
If you mark the data by barcode it's possible to receive an integrated barcode reader for easily and quick data logging of inspector, product and packaging line for your OXYBABY® 6.0. Only available for OXYBABY® 6.0.
Bluetooth table
printer
Select Bluetooth equipment for your OXYBABY 6.0 and print wireless directly onsite your results of measurement via small and handy table printer. Practical, quick and easily.
ACCESSORIES OXYBABY®: For bottles, cans and mini packaging
The OXYBABY Can Piercer is essential for the headspace analysis of bottles and cans. Safe interlocking and easy handling guarantee optimal quality control also for bottles and cans with metal or plastic caps. The Can Piercer can be adjusted up to 15 inches maximum bottles – or cans height. The integrated needle. protection and robust needles prevent needle breakage.
Material: steel
Weight: 16.6 lb ( without OXYBABY® )
Dimensions ( HxWxD ): 23 x 6.1 x 9.3 inches ( packed, without OXYBABY® )
Suitable for OXYBABY® M+ and OXYBABY® 6.0.
OXYBABY® Aquacheck is ideal for mini packages lower 2 ml sample gas volume. The gas volume from two or more packages is collected in the water and analysable by the OXYBABY®.
Material: stainless steel
The OXYBABY® Aquacheck is available with and without a water container.
Suitable for OXYBABY® M+ and OXYBABY® 6.0.
| | | | |
| --- | --- | --- | --- |
| Case | Application | Example | Recommendation |
| 1 | for beverages containing gas | cola, mineral water, lemonades, beer, etc. | 590000165, 590000166 or 590000325 |
| 2 | for beverages, free of gas | juices, wine, water mixtures, etc. | 590000156 |
| 3 | EXTREME CASE: for beverages containing gas | with very high overpressure, small volume in the head space of the cans / bottles and / or very strongly sparkling | 590000239 |
| 4 | for sole pressure measurement | from a can or bottle | 590000341 |
Retrofit components and spare parts:
Bottle holder 
Tubular extension for CAN-Piercer
Can-Piercer holder (needle 0.73 inches) 
Can-Piercer holder (needle 0.33 inches)
Can-Piercer holder (needle 0.22 inches)
Can-Piercer holder (pressure measurement) 
Needle connection with filter and RV 
Hose 
Luer-Lock connection female
956721800
802128600
956864800
956722000
956674900
956883600
956721700
800707500
800420800
Bottle holder : 956721800
Tubular extension for CAN-Piercer : 802128600
Can-Piercer holder (needle 0.73 inches) : 956864800
Can-Piercer holder (needle 0.33 inches) : 956722000
Can-Piercer holder (needle 0.22 inches) : 956674900
Can-Piercer holder (pressure measurement) : 956883600
Needle connection with filter and RV : 956721700
Hose : 800707500
Luer-Lock connection female : 800420800